MF Packaging maintains a notable position in the national and international markets by delivering flexible packaging solutions with the highest level of professionalism and expertise. We began our journey as a Manufacturer, Exporter and Wholesaler with the goal of offering the highest quality packaging material and pouches. We have steadily established ourselves as the most dependable end-to-end solution supplier for businesses in a variety of industries. Because of our honesty, quality, and efficiency at work, a huge number of customers now prefer to associate with us. With absolute fluency, we have the ability to match all of our clients desired expectations for Printed Stand Up Pouches, Printed Zipper Pouches, Printed Patch Handle Bags, and other things. Our human resources are critical assets to us; their honesty, expertise, and experience enable us to provide excellent service to our customers. As a result of the recruited workers mastery in their specialised fields, our business operations are flawless. We are thankful to each team member for his contribution in our journey.
Sister Concern Company
G-Flexipack was founded in 2016 as a partnership with the goal of providing high-quality packaging solutions and products to a wide range of industries. The company was founded under the umbrella of Gangamani Industries and Gangamani Enterprise, which have been involved in the rubber industry for over 20 years. Gflexipack established its position in the western region in a short period of time, thanks to the management previous rich experience in product creation and catering MNCs across India. The company was founded with a monthly installed capacity of 150 MT, which was quickly utilised within only three years. Currently, the company is increasing its manufacturing capacity to roughly 300+ MT per month with the goal of growing into the export market and catering to the bulk of Indian multinational corporations.
Why Choose MF Packaging?
We run our company with total honesty and integrity.
All of our high-quality products are available at competitive costs.
We accept urgent orders and always fulfill them within the specified time frame.
Our organisation has a large supply network that is managed by knowledgeable staff.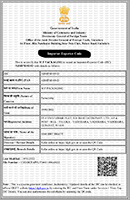 Read More